Sublingual Vitamin B12
with B-6, Folic Acid and Biotin

90 Tablets

Retail price: 25.00
Your price: 19.99

&nbsp
Sublingual Vitamin B12

with B6, Folic Acid & Biotin

Nutritionally Supports Healthy Nervous System and Cardiovascular Function*
Who may need a vitamin B12 supplement to prevent a deficiency?
Breast-fed infants of women who follow strict vegetarian diets have very limited reserves of vitamin B12 and can develop a vitamin B12 deficiency within months of birth. This is of particular concern because undetected and untreated vitamin B12 deficiency in infants can result in permanent neurologic damage. Consequences of such neurologic damage are severe and can be irreversible.

Mothers who follow a strict vegetarian diet should consult with a pediatrician regarding appropriate vitamin B12 supplementation for their infants and children.

Individuals with pernicious anemia or with gastrointestinal disorders may benefit from or require a vitamin B12 supplement.

Older adults and vegetarians may benefit from a vitamin B12 supplement or an increased intake of foods fortified with vitamin B12.

Some medications may decrease absorption of vitamin B12. Chronic use of those medications may result in a need for supplemental B12.

Individuals with gastrointestinal disorders Individuals with stomach and small intestinal disorders may be unable to absorb enough vitamin B12 from food to maintain healthy body stores.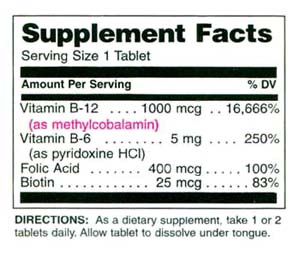 *This statement has not been evaluated by the Food and Drug Administration. This product is not intended to diagnose, treat, cure or prevent any disease.